Buddy Bench
10 supported
$900.00 raised of $900.00 goal
Bench will only be purchased if $900.00 is donated by Friday, 10/27.
Calculating time remaining
This is a special bench that would be installed on the playground at Spring Valley Elementary.  Students are taught that if they feel lonely or do not have anyone to play with, then they sit on the bench so other kids know to include them.  This is a great way to help students feel connected and be taught empathy.
Share
History of the Buddy Bench

The Buddy Bench concept originated with Christian Bucks, as a way to bring kids together to get to know each other and make new friends. Christian's idea began with fundraising for a single Polly Products bench in his school and has since gone viral! His concept "to grow our dream circle of friends" promotes outreach, enabling children who may feel left out to find a playmate; team building, as they work together to raise funds for a Buddy Bench; community service, as private citizens, civic organizations and businesses can donate a personalized Buddy Bench which includes their name or personalized text.

As Christian said, "We show we care about others when we ask others to play. I also hope that new friendships will be made because of the buddy bench."
What is the goal isn't met?

Contributors will be emailed with a choice of a refund or to give their donation to the PTA general fund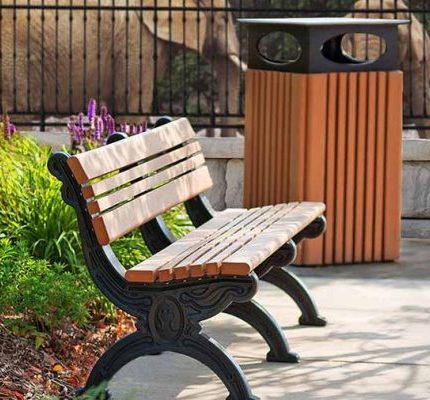 Bench Specifications
DESCRIPTION
The Landmark Bench is rugged and sturdily built, and quite functional with three 2″x6″ planks providing a deep comfortable seat. The extra-wide 2″x 10″ backboard creates a large "artistic canvas" that is popular for engraving and plaques with plenty of room for text, large logos, and other artwork.
Capacity: 675 lbs.
Made from 1072 recycled milk jugs; 1096 w/armrests

Features and Benefits:
Made of 100% recycled HDPE
Impervious to moisture, rot, mold, insects
Maintenance-free, no painting or staining
Stainless steel fasteners
UV protected, solid color molded through
20-year commercial warranty